July 2021 "ever.doichi café" open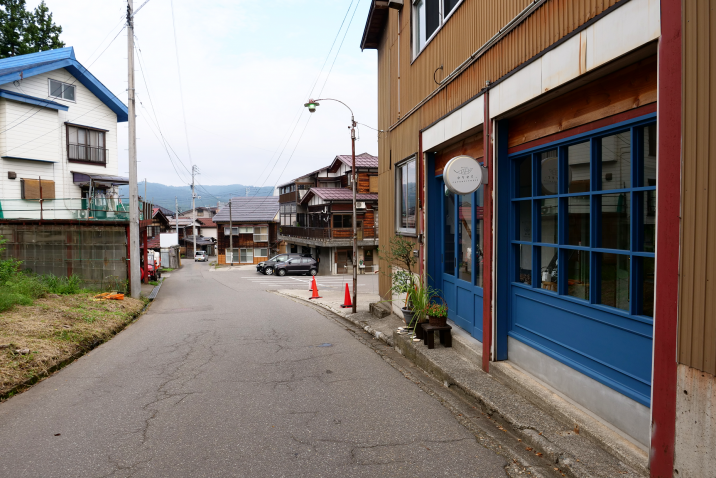 「ever.doichi café」 is tucked away in Babacho, Tokamachi-shi, just up a side street from Route 117. It is located next to Mizusawa Elementary School.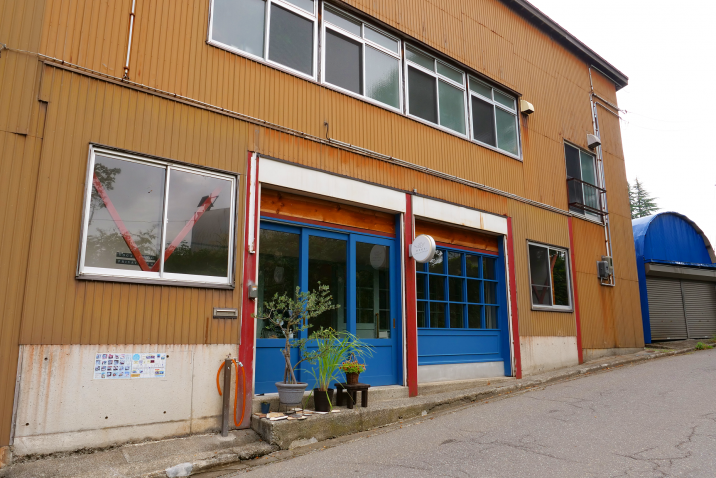 The concept of the restaurant is warming. The building looks old and retro, but the bright blue sliding doors catch the eye. Once you step inside, you will find yourself in a warm and relaxing café space.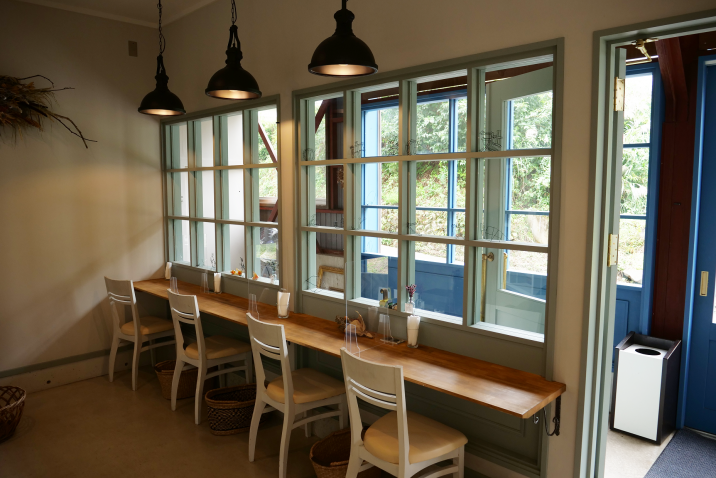 The owner's good taste oozes from the décor, from the arrangement of accessories to the flowers casually arranged in vases to the handmade shelves.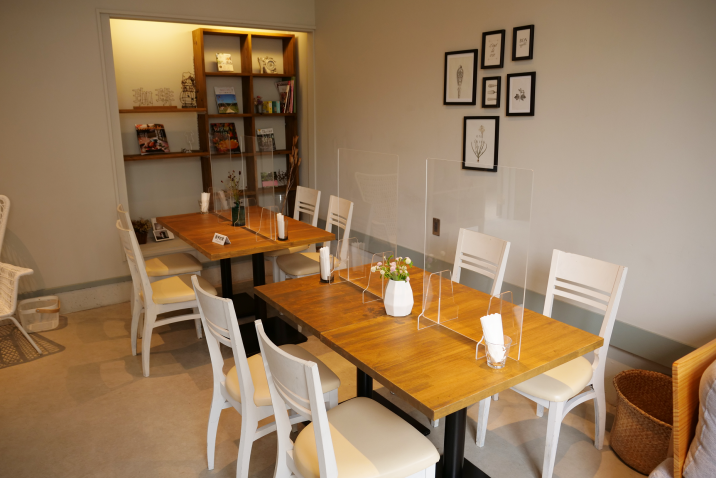 Standing in front of the store is the owner, Asuka Nakajima. It has been a little more than a year since the restaurant opened last July. The restaurant is beginning to take off and is often fully booked even during lunchtime on weekdays. Although she feels a sense of satisfaction, she is humble, saying, "I want to make this a restaurant that can continue to operate for a long time.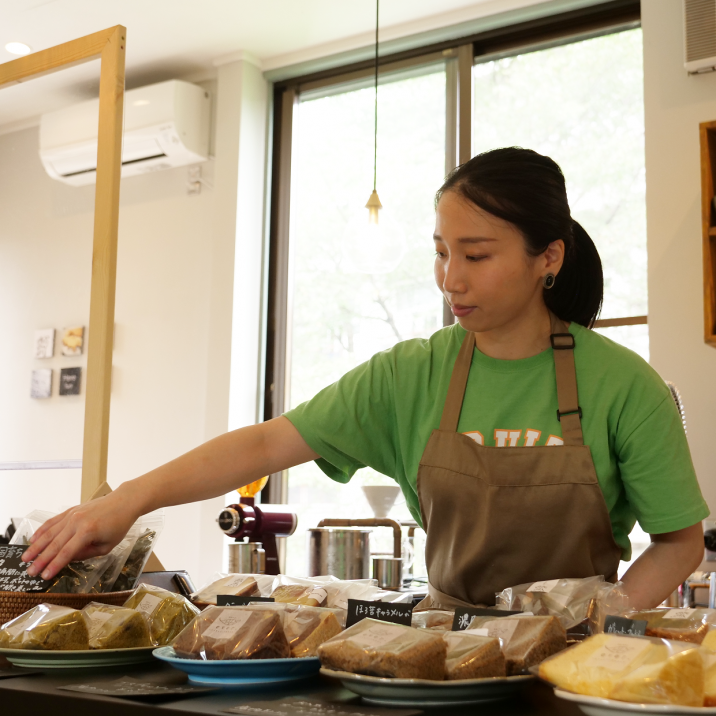 ever.doichi café Asuka Nakajima
Asuka Nakajima
In the beginning, during heavy snowfalls in winter, we had no customers, and there were days when we had to work hard to remove the snow. There are still many things I can do at this restaurant. I want to challenge myself in many different ways.
Before opening the cafe, Mr. Nakajima had studied abroad, worked as a store manager at a major famous apparel store, and even worked at a famous cafe in Omotesando, Tokyo. He is a man of action full of vitality, but after the Corona disaster, he no longer had a reason to stay in the city, and he decided to start his own business in his hometown of Tokamachi. He decided to start his own business in his hometown of Tokamachi, where he now runs a café.
Real coffee brewed by a coffee specialist!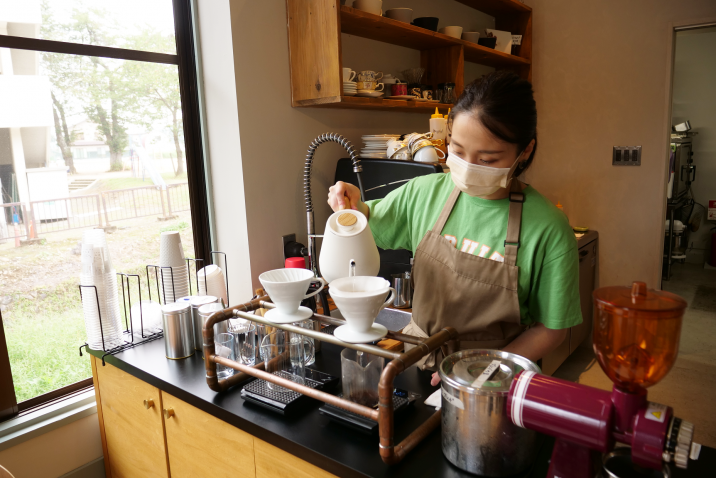 The store prides itself on its coffee, which is ground from carefully selected beans and carefully brewed by paper drip. Mr. Nakajima is a certified coffee specialist.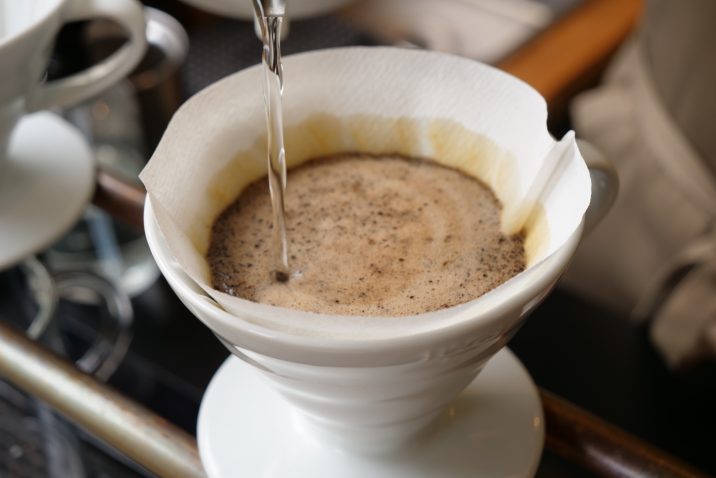 Many fans go there for the deeply flavored coffee and espresso.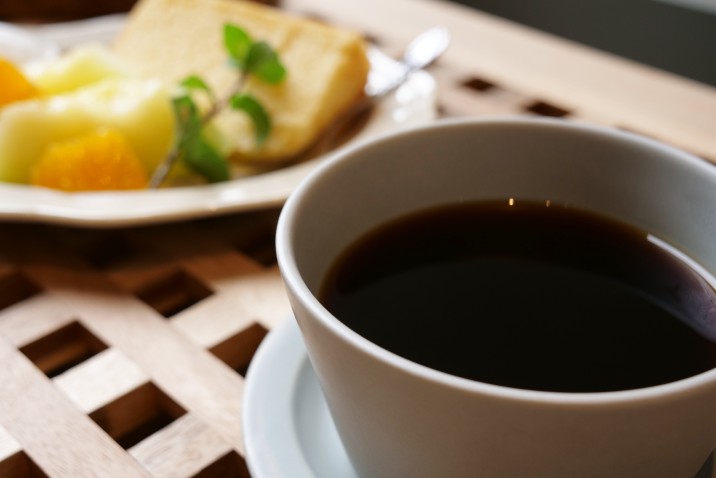 Photo front
Ever Cafe Blend HOT (M) 
500 yen (tax included) inside the store / 491 yen (tax included) take-out
In addition to the standard coffee "evercafé blend" blended by Mealcraft, a home-roasted coffee shop in the city, we always have three to four kinds of specialty coffees brewed with rare and valuable beans from around the world. We also offer a full lineup of drinks, including homemade caramel lattes, café mocha, and organic herbal teas from Tokamachi.


Look out for their acclaimed gluten-free baked goods, creative parfaits!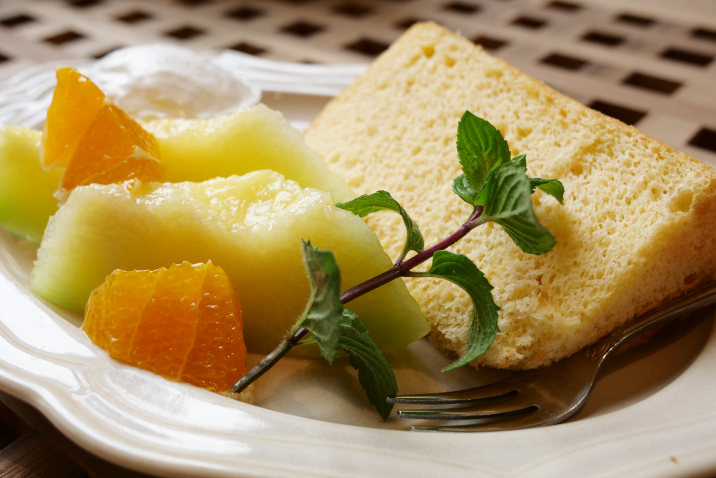 Chiffon cake plate (in-store only) 550 yen (tax included)
This is a chiffon cake plate with lots of fruit. It is moist and fluffy with a moderate sweetness. It is made with rice flour from Uonuma Koshihikari rice produced in Tokamachi. All of the pastries, breads, and cakes served at the restaurant are gluten-free. The shop is overflowing with the desire to stick to safe and delicious local ingredients.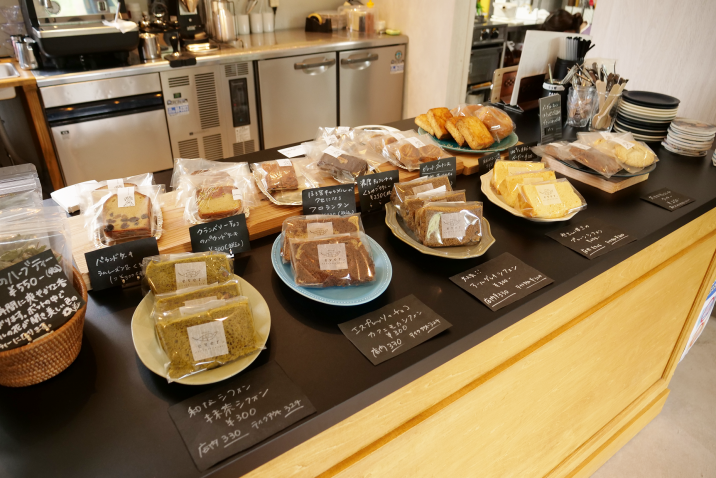 In the store are a variety of sweets made by Ms. Nakajima, who is an expert in gluten-free baked goods. These are also popular items.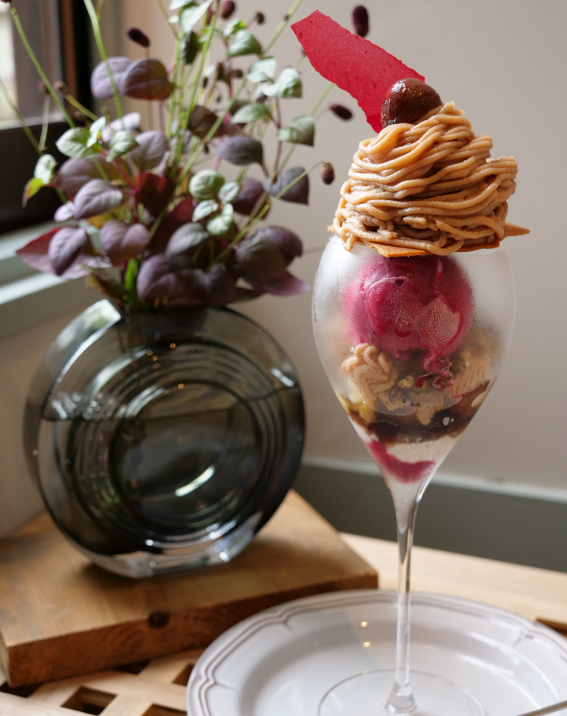 Mont Blanc parfait 1,500 yen (tax included)
*One drink order required (parfait + extra charge drink order required)
Lastly, I would like to recommend one more item at the restaurant. This is the "parfait," which we began offering last October. This is a slightly extravagant sweet with an abundance of seasonal fruits. At the time of our visit, two types of parfaits were available: "Mont Blanc" and "Cheinmuscat. *The parfait menu changes with the seasons.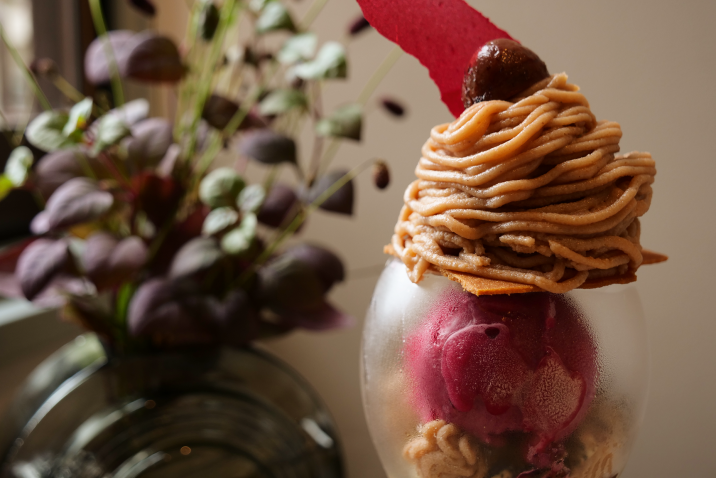 This is a Mont Blanc parfait. It is accented with Italian marron and Chinese black tea "Lapsang Souchong. Although the visual impact of the parfait may be eye-catching, the refined taste is also noteworthy. What's more, there are 14 different ingredients used in the parfait, allowing you to enjoy a gradation of flavors.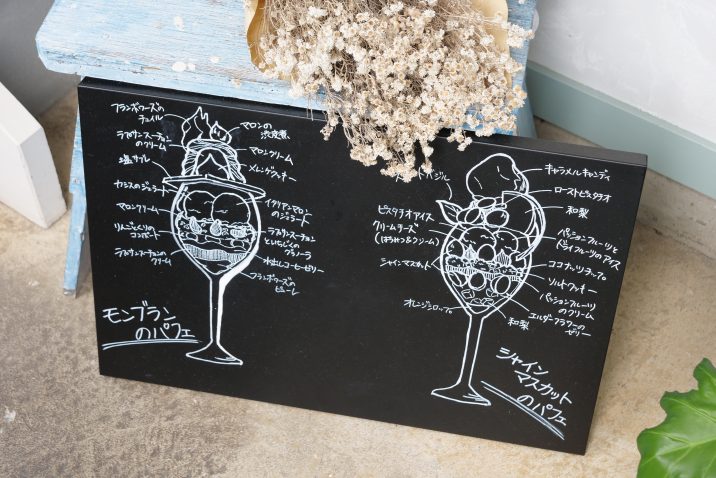 What's next? What flavor?" The flavors change with each spoonful, providing endless enjoyment. Starting with the marron cream, which is mildly sweet and full of flavor, the sweet and sour taste of the blackcurrant gelato stands out in the middle layer. The smoky aroma of Lapsang Souchong, a Chinese black tea, also fills the mouth. Please enjoy this parfait for adults that never ceases to change.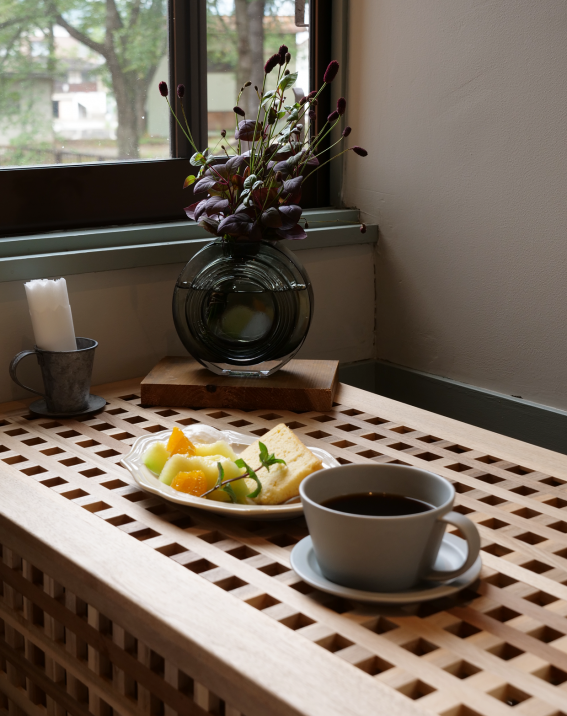 The owner of the restaurant is always busy developing new products and serving customers with a twinkle in his eye. We want to be a place where young people want to come back to their hometowns," he says enthusiastically, "and we also want to create jobs. The up-and-coming Ever. Doichi Cafe. We will keep an eye on its future development.
Yoga and fitness studio on the second floor of the cafe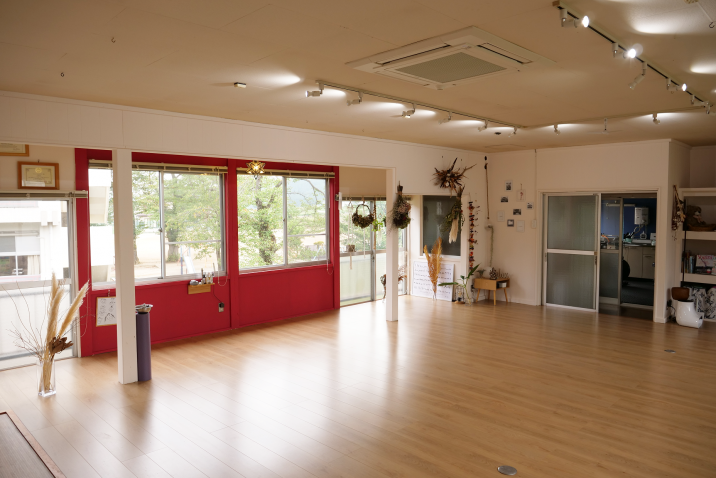 Yes, the retro building also has a second floor. This is a complete change from the café atmosphere. This is "ever.YOGA and FITNESS," a yoga and fitness studio run by Ms. Nakajima's sister, Misato. It is a one-floor space with a sense of openness and light.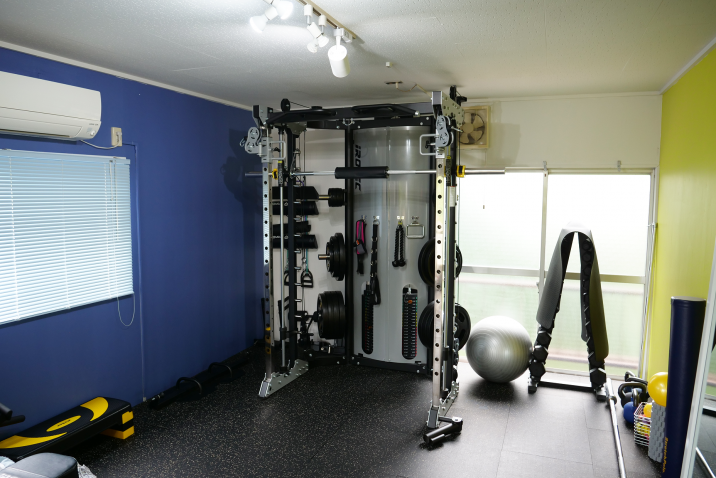 In the back is a private room with a full range of machines. This is a personal training gym that caters to each individual. Fitness is by appointment only. For more information on prices and services, please visit the website.
Store Information
---
ever.doichi café
■Address: 1396 Babacho, Tokamachi-shi
■Telephone:TEL.025-755-6611
■Business hours: Weekdays 10:00-17:00 LO / Weekends and holidays 9:00-16:00 LO
■Closed: Wednesday and Thursday
■Parking: Multiple parking spaces available
■Home Page:https://ever-doichi.com/
■Instagram:@ever_doichi
ever.doichi café