Morning market and "Naotetsu Umimachi Art" collaborate!
The "Morning Market Food and Art Festival" will be held at the morning market in the Naoetsu area of Joetsu City, Niigata Prefecture, on Friday, the 23rd (national holiday).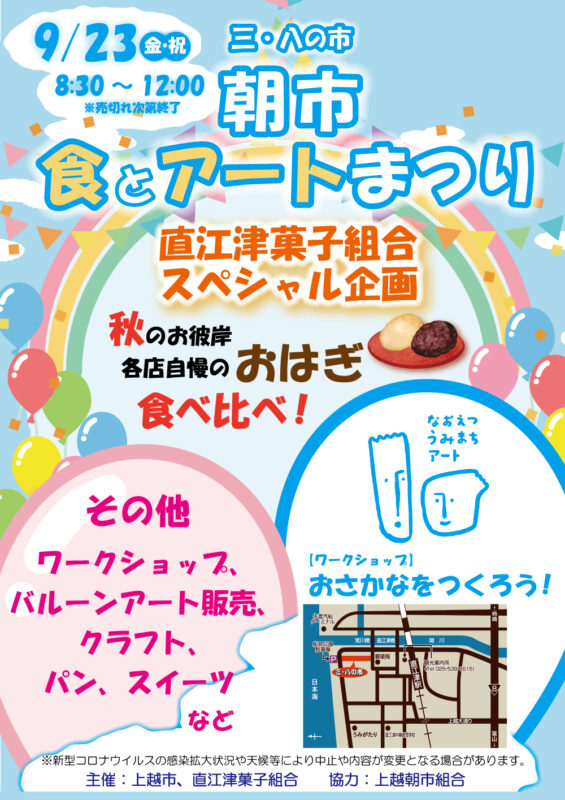 This event is a collaboration between "Naoezu Umimachi Art," an art event currently being held in the Naoetsu area, and the market of 3-8.
On the day of the event, the workshop "Let's make fish" will be held, which is also held at "Naotetsu Umimachi Art". Participants will make fish out of various materials and draw fish on large sheets of paper. Other workshops include making paper cutout cards, origami star straps, and balloon art for sale.
In addition, Japanese and Western confectionery stores, mainly from the Naoetsu area, will open stores selling a wide variety of Japanese sweets, sweets, and breads. In addition, the Naoetsu Confectionery Association will hold a special event. A small set of "o-hagi" from each of the member stores will be sold so that visitors can enjoy a comparison of the different types of o-hagi.
There are currently 8 participating stores (as of September 15). As soon as more participating stores are determined, they will be announced on the Joetsu Sightseeing Navi website.
<Participating Shops>
Sakazume Confectionery
Yamakawa Confectionery
Ito Bean Paste Factory
Minoya
Dohi Confectionery
La Sonne Senka
Mr. Chef
Orizuru
Morning Market Food and Art Festival