The "Stone Face Contest" is now open for people to find and combine their favorite stones and create their own "stone faces" and submit them to the contest.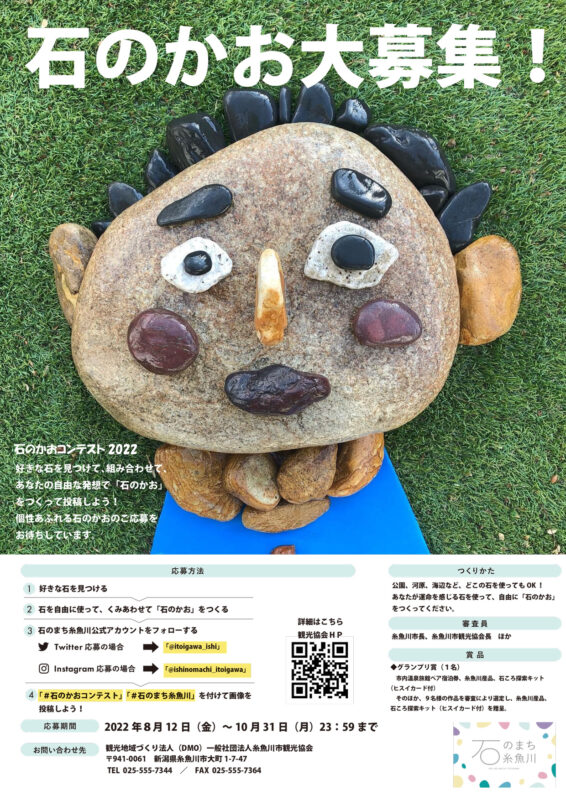 This project was organized by the Itoigawa Tourist Association to promote "Itoigawa, the City of Stones" by having visitors become familiar with and enjoy the wide variety of stones produced by the unique geographical features of Itoigawa City, Niigata Prefecture.
The contest started last year, and 1,300 pieces were collected last time. Some of them were made by pulling out stones that they had picked up in Itoigawa in the past.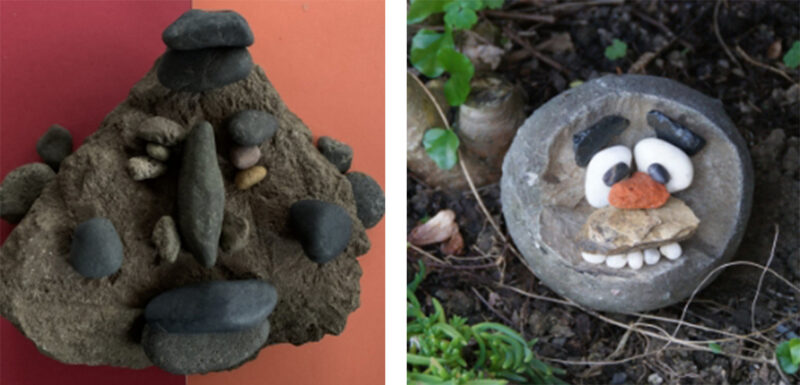 「2,000万年くらい経ったで賞」(前回受賞作)    「一度見たら忘れられないで賞」(前回受賞作)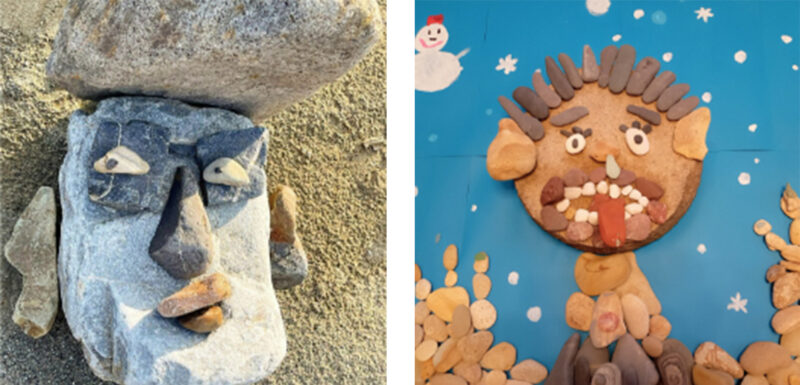 「リーゼントがお似合いで賞」(前回受賞作)     「くしゃみをしたらバラバラになっちゃうで賞」(前回受賞作)
To enter the contest, please create your own "Ishi no Kaou (stone face)" using stones found in parks, riversides, seaside areas, and so on. Please post your work on Twitter or Instagram with the hashtags "#石のかおコンテスト" and "#石のまち糸魚川". If your work is chosen as one of the 10 works, you will be awarded with luxurious prizes such as accommodation tickets in Itoigawa City.
Mr. Okada, Itoigawa City Tourism Association
Mr. Okada said, "The fun part is that you can do it anywhere, even with stones on the street where you usually walk casually. Also, it is very interesting just to notice that there are various types, colors, and shapes of stones. Itoigawa has a variety of stones, including the national stone jade. Please make use of the characteristic stones to create your own unique stone face and apply for the contest."
Stone Face Contest 2022
■Application period: Monday, October 31, 2011, 23:59
■How to apply: 1) Find a stone you like, use it freely, and combine them to make a "stone face.
(2) Follow the official account of "Ishi no Machi Itoigawa" (Stone Town Itoigawa)
 Follow @itoigawa_ishi on Twitter or @ishinomachi_itoigawa on Instagram.
3) Post images with "#Ishi no Kaou Contest" and "#Ishi no Machi Itoigawa".
■Prizes: 1 Grand Prix winner / A pair of accommodation voucher in Itoigawa, assortment of Itoigawa's specialties, etc.
The other 9 winners will receive a combination of Itoigawa's products, a kit to search for stones, etc.
■contact information:TEL025-555-7344(General Incorporated Association Itoigawa City Tourism Association)
■Home Page:https://www.itoigawa-kanko.net/ishinokao2022/