Let's support the accommodation facility with a coupon ticket!
The "Myoko Outing Support Campaign", which allows you to receive a coupon for 2,000 yen when you stay at a facility designated by Myoko City in Niigata Prefecture, started on June 1. *This campaign is for Niigata citizens.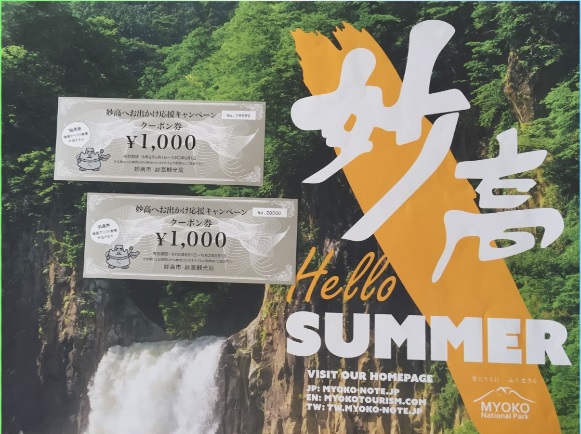 This is an accommodation facility in Myoko City that was booked from the application site "Jalan net" or "Rakuten Travel" in line with the "Tsunag Niigata accommodation campaign" that Niigata Prefecture will carry out from June 1st to July 31st. It is a campaign that presents coupons (2,000 yen) that can be used at restaurants and souvenir shops in the city to those who stay.
The target is over 70 accommodations in Myoko City. Among the restaurants and souvenir shops in the city, 2,000 yen coupons can be used at Myoko Tourism Management member stores. The number of distributions is 10,000 sets. When the number of people reaches 10,000, the coupon will not be issued even during the campaign period. The campaign period is until the accommodation on July 31st. *Coupons and a list of available stores can be obtained at check-in.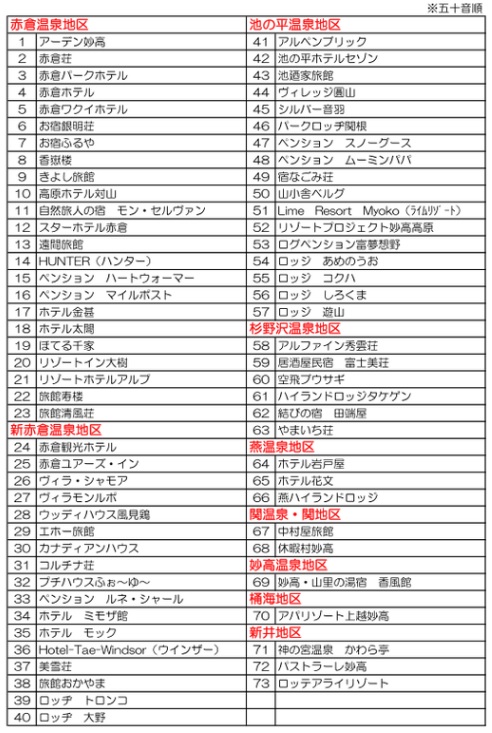 List of accommodation facilities provided with "Coupons" for going out to Myoko
Myoko Tourism Management plans to hold a lottery for coupon tickets users to win accommodation tickets and lift tickets. You can check the details of accommodation facilities on the Myoko Tourism Management website. For other inquiries, please call 0255-86-3911.
■ Connect Niigata residents lodging campaign 
https://www.pref.niigata.lg.jp/sec/kankokikaku/13569036762587.html

■ Campaign to go out to Myoko
https://www.myoko.tv/news/97