The "Oyako de Tokiwa Maru Boarding Experience Trip," a tour for parents and children to enjoy a one-day trip on Sado Kisen's car ferry, is now on sale.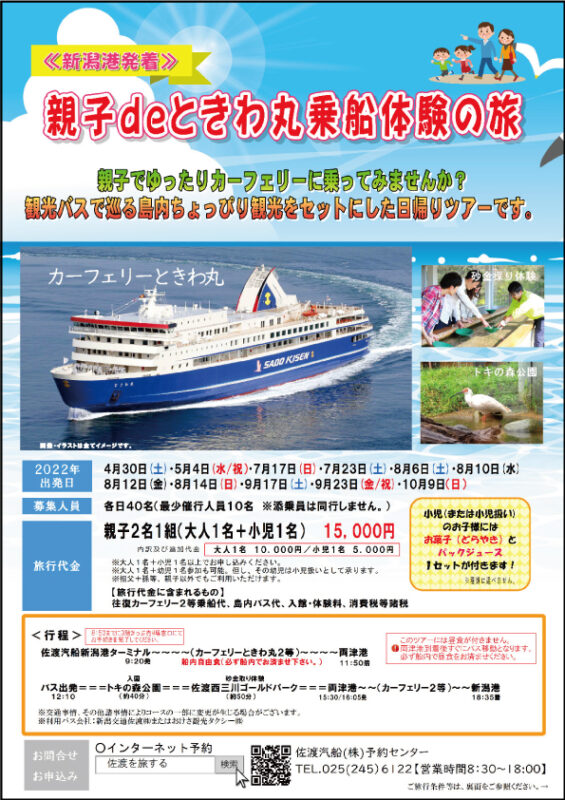 This one-day tour includes a round-trip car ferry ride to/from Niigata Port, island sightseeing, and snacks for children. The island sightseeing tour includes a gold mining experience at the Sado Nishimikawa Gold Park and an entrance to the Toki no Mori Park.
The fee is 15,000 yen for a pair of parents and their children. Additional persons cost 10,000 yen per adult and 5,000 yen per child. Reservations can be made online or by calling the Sado Kisen reservation center at 025-245-6122.For more information, please visit Sado Kisen's website.
Parent-child de Tokiwa Maru Boarding Trip
<Departure Dates
Saturday, April 30
May 4 (Wed., national holiday)
July 17 (Sunday)/23 (Saturday)
August 6 (Sat)/10 (Wed)/12 (Fri)/14 (Sun)
September 17 (Sat)/23 (Fri., holiday)
October 9 (Sun.)
<Charge>
■Parent-child pair: 15,000 yen (additional person: adult 10,000 yen / child 5,000 yen)
*About infants
The program is open to 1 adult and 1 infant (total of 2 persons), but the infant will be treated as a child and will be charged.
For the third infant, an additional child fee of ¥5,000 will be charged.
<Schedule>
■Sado Kisen Niigata Port 9:20 Departure – Island Sightseeing – Niigata Port 18:35 Arrival (Dismissal)
■Island Sightseeing
・Toki no Mori Park (visit/approx. 40 minutes)
・Sado Nishimikawa Gold Park (50 minutes)
■Sightseeing bus service is available on the island.
■Children will receive a set of Dorayaki + a pack of juice.
■TOKIWA MARU will be used on the outward journey. *This service may be used on the return journey due to the cancellation of the previous flight or other reasons.
<recruiting>40 people wanted (minimum number of participants will be 10)