Open it and see
For the first time in 10 years, the Naoetsu tourist guide map "Ryojo-no-machi", that introduces tourist attractions in Naoetsu, Joetsu City, Niigata Prefecture has been renewed.
The guide map was created by the civic organization, "The Lion Statue Building for Town Development Association."  It is pocket sized, easy to carry and can be easily opened by pulling the two tags as indicated, with both hands.
It is the first time in 10 years that the guide map has been revised. The guide map has been expanded to include the Gochi region, in addition to the Naoetsu region as well as the inclusion of four walking courses.  The local tourist spots along the course, including Gochi Kokubunji Temple, the morning market and aquarium, are listed with pictures and explanations. 
The descriptions of the restaurants have been updated, as well as the inclusion of an historic, Edo-era trade ship route which stopped at Naoetsu.  It was called 'Kitamaebune', and it has been selected as a Heritage site by the Agency for Cultural Affairs.  A total of 10,000 guide maps have been distributed between the tourist information center at Naoetsu Station, the hall with the lion statue, and the Gochi History Village Hall.
The association that produced the maps said, "The tourist map has become much easier to use.  We would like you to take the map with you and walk around the town with a new perspective."
* The facilities where the map is distributed may be closed to prevent the spread of the coronavirus.
Gochi History Village Hall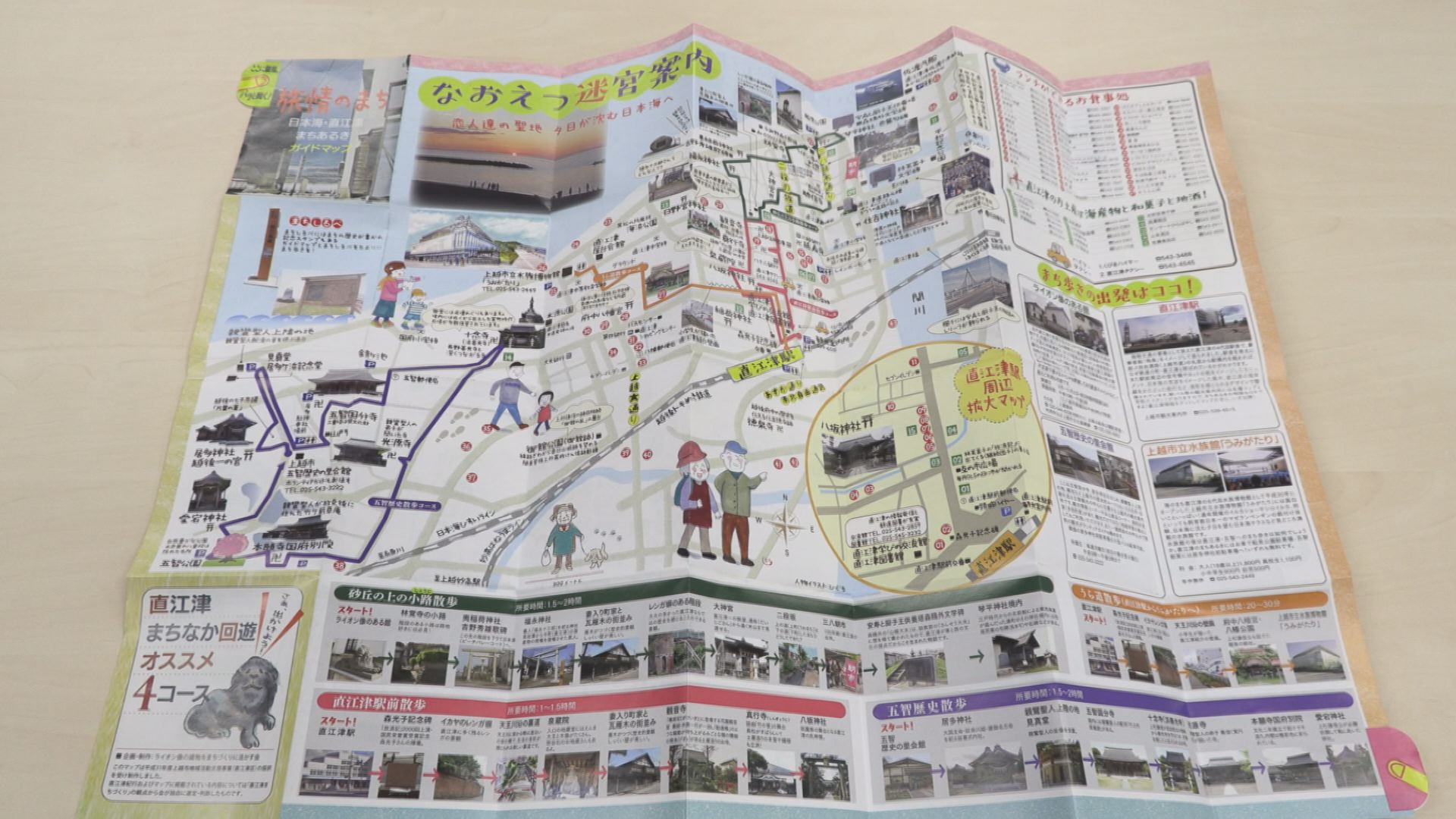 Business hours from 9:00 am to 5:00 pm
Address: 1-18-28 Kokufu, Joetsu City, Niigata Prefecture
Tel: 025-543-3222
Access: About 25 minutes from Joetsu Myoko Station on the Hokuriku Shinkansen
URL: https://www.gotisato.com/