The gateway to Myoko Togakushi National Park!
The Myoko Plateau Visitor Center, located at Imori-ike Pond in Myoko Plateau, Myoko City, Niigata Prefecture, will have its grand opening on Friday, April 1. The center will have an exhibition space to introduce the attractions of Myoko Togakurenzan National Park, and is expected to serve as a gateway to the Myoko Togakurenzan National Park area.
The Myoko Plateau Visitor Center is a facility directly managed by the Ministry of the Environment and will open as a tourist information center for the entire Myoko Togakurenzan National Park. The facility is a one-story wooden building, more than twice the size of the previous facility, measuring approximately 840 square meters. It was temporarily opened last October during the fall holiday season, and until now only the rest area and restrooms in the facility have been available. During the autumn foliage season, approximately 10,000 people visited the facility in one month.
From April 1, in addition to an exhibition room introducing Myoko Togakurenzan National Park and a craft room that doubles as a conference room, a store selling products from the outdoor brand The North Face and a café serving coffee and soft-serve ice cream from Myoko Coffee will open.
The centerpiece of the facility is an exhibition room established in the space to the left past the main entrance. Passing through the snow wall, visitors will find a section that introduces the history, nature, and attractions of Myoko Togakurenzan National Park.
A huge 267-inch screen in the back of the exhibition room shows a video introducing the park and its tourist information. In addition, a diorama of the national park in front of the screen projects a projection mapping image in tandem with the screen.
Other exhibits will include a booth introducing grouse, insect and plant specimens, and a two-meter-long black bear.
The visitor center has a rest area with about 50 seats, including tables and sofas, and a large glass window on the Imori Pond side with a view of the pond and Mt. Wi-Fi is available throughout the building. The construction cost was 885 million yen, including exhibition fees.

In the future, they plan to hold mountain climbing consultations, bird-watching and wildflower observation events on Saturdays and Sundays, and increase the number of tours, guides, and other programs that allow visitors to experience nature, and they expect more than 100,000 visitors per year.
Logo mark of the Visitor Center with the image of Myoko upside down
On the first day of the grand opening, the first 100 visitors will receive a commemorative sticker with a serial number, designed with the Myoko Plateau Visitor Center logo.
Myoko Plateau Visitor Center Grand Opening on April 1
■Hours of use: 9:00-17:00 hrs (with occasional closures)

Myoko Plateau Visitor Center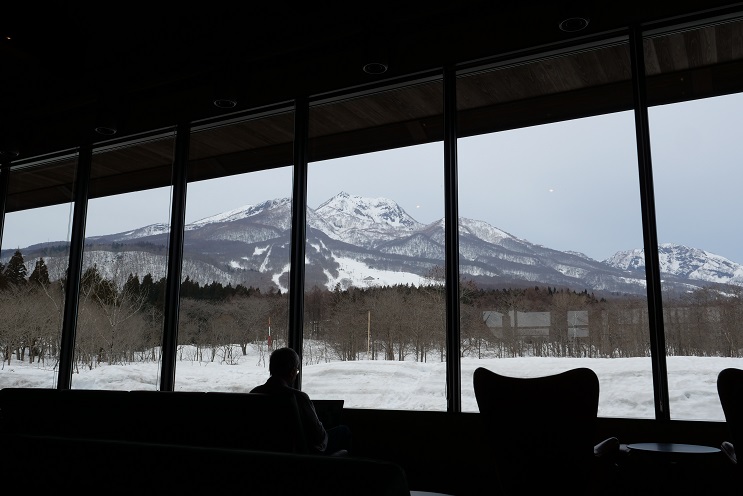 Tel: 0255-75-5270
Access: <Car>Joshinetsu Expressway Myoko-Kogen IC