The perfect wine for the peach festival and cherry blossom viewing season.
Iwanohara Vineyard, a winery that carefully produces wine in Joetsu City, Niigata Prefecture, where there is deep snow, has released a wine suitable for early spring, "Sukkiri Amakuchi Rosé" Muscat Bailey A 2021, in limited quantities since Saturday, March 19.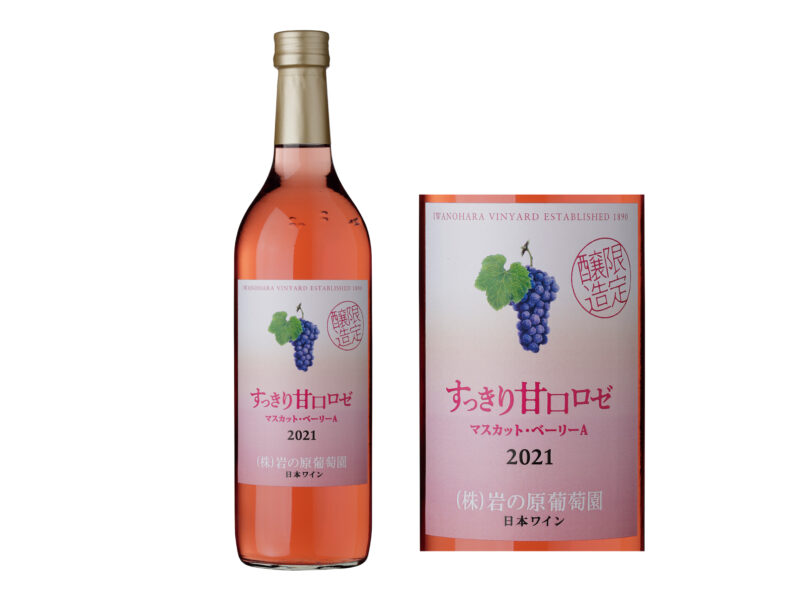 Iwanohara Wine "Sukkiri Amakuchi Rosé" Muscat Bailey A2021
720ml 1,449 yen (tax included)
This is a wine that is released in limited quantities every year at this time.This wine is made only from the 2021 harvest of Muscat Bailey A, a grape variety crossed by Zenbei Kawakami, the founder of Iwanohara Vineyard.
It is a sweet rosé wine that is easy for everyone to drink, with a bright cherry color that evokes spring, a gorgeous strawberry-like aroma, and a mild, full flavor.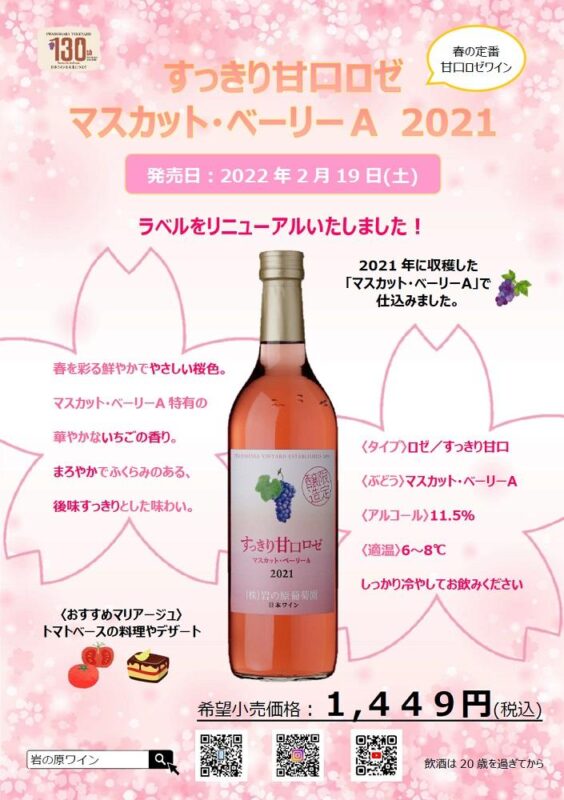 The label design is new this year.A cute illustration of a grape is placed in the center of the bottle, and the color and design are designed to evoke more of a wine flavor.
A representative of Iwanohara Vineyard says, "We recommend drinking it well chilled. Please enjoy it with a variety of dishes."
The number of bottles produced is 2,000.This event will end as soon as it is sold out.It can be purchased at the Iwanohara Wine Shop, online stores, and at liquor stores in the prefecture.
Yukiguni Shoten, which sells products from Joetsu Myoko in Yurakucho, Tokyo, is also scheduled to receive them around the end of February.If you are in the suburbs of Tokyo, please visit Yukiguni Shoten to purchase these products.
Yukiguni Shoten⇒ https://yukiguni.shop/
Iwanohara Wine "Sukkiri Amakuchi Rosé" Muscat Bailey A2021
■Release date: February 19 (Saturday)
■Price: 1449 yen (tax included)
<Related Video> Picking up "Miyukibana Red," a wine that represents Iwanohara Vineyard↓↓
"Beyond!", a program that focuses on the other side of the manufacturing process, introduced "Miyukibana Red", a year-round product that represents "Iwanohara Vineyard".Although the body of the wine is Muscat Bailey A, which was crossbred by the founder, Zenbe Kawakami, it is actually a blended wine made by combining grapes from several regions and varieties.At the site of the fall brewing process, we asked the blender who manages the process from receiving the grapes to bottling about his commitment to "non-vintage".*This product can also be purchased at Yukiguni Shoten.
Iwanohara Vineyard
Address: 1223, Kitakata, Joetsu City
Tel: 025-528-4002
Access: <By car>20 minutes from Joetsu Myoko Station, Hokuriku Shinkansen Line.
URL: http://www.iwanohara.sgn.ne.jp/