Last ride and first ride on the Echigo Tokimeki Railway!
The Echigo Tokimeki Railway will release the "2021 End of Year Holiday Tour Pass" and the "2022 New Year Holiday Tour Pass," which offer great savings during the year-end and New Year holidays.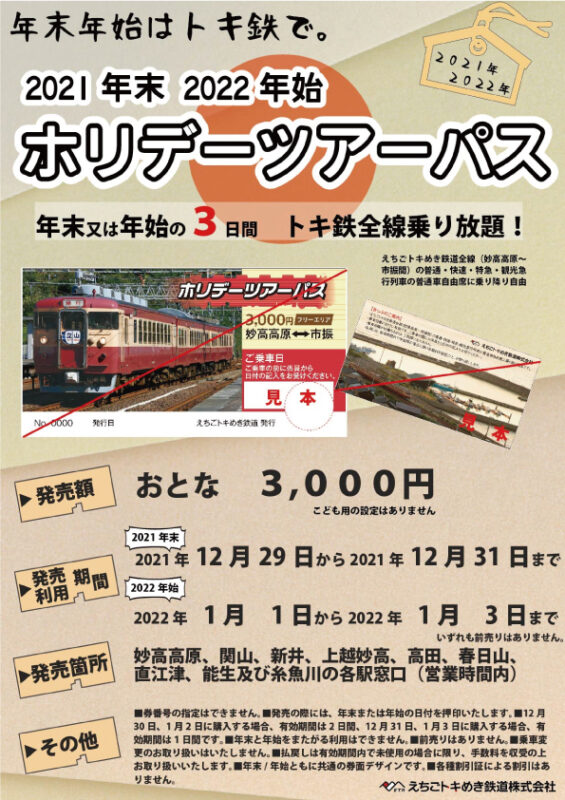 The 2021 End of Year Holiday Tour Pass will be on sale and available from December 29th to 31st. The 2022 New Year's Holiday Tour Pass will be available from January 1 to 3. The validity period depends on the date of purchase. The maximum validity is 3 days.

This ticket can be used on weekends, holidays, and weekdays when old Japanese National Railways (JNR) colored trains are in operation, and allows you to freely board and disembark from ordinary, rapid, limited express, and sightseeing express trains.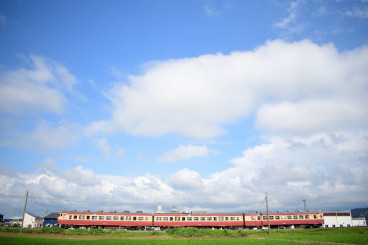 They are available at Myoko Kogen, Sekiyama, Arai, Joetsu Myoko, Takada, Kasugayama, Naoetsu, Nosei, and Itoigawa stations. You can purchase tickets at the ticket windows of each station during business hours. There are no advance sales.
For more information, please visit the Echigo-Tokimeki Railway website.  ⇒ https://www.echigo-tokimeki.co.jp/information/detail?id=1481
2021 End of Year Tour Pass
■Sales and usage period: Wednesday, December 29, 2021 to Friday, December 31, 2021
■Amount on sale: 3,000 yen *No children's tickets available
2021 New Year Tour Pass
■Sales and usage period: Saturday, January 1, 2022 – Monday, January 3, 2022
■Amount on sale: 3,000 yen *No children's tickets available