Focusing on the recent boom in camping, we cover all campgrounds operating in the Joetsu area. In addition to detailed information on each campsite, the editorial department recommends places to stop by. Whether you are looking for a family camping trip or a solo camping trip to enjoy your time to the fullest, we are sure you will find something to suit your needs. Why don't you go out and enjoy the great outdoors?
【Pre-opening on April 29th】Enjoy your stay in the style of your choice! Full of activities!
Take Route 253 towards Matsunoyama Onsen at Ikejiri intersection, about 25 minutes by car. The campground is located in Matsunoyama, Tokamachi City, on the Daigonji Kogen plateau, 700 meters above sea level in the middle of Mt.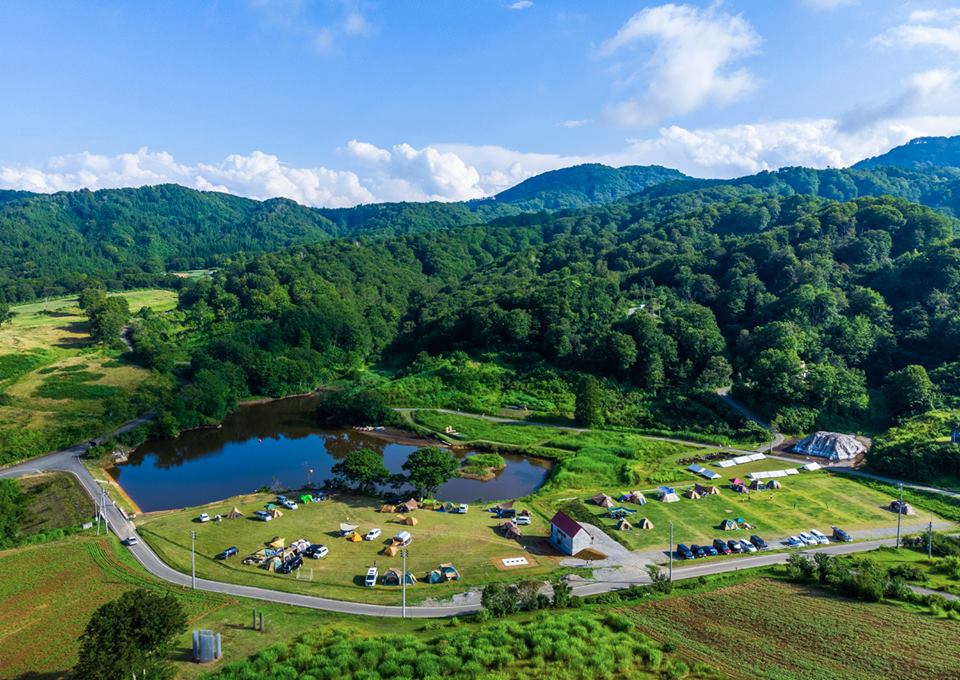 It was renovated and reopened in 2018 in cooperation with the outdoor manufacturer Snow Peak in Sanjo City. As an outdoor field where Tokamachi City's nature can be fully enjoyed, the campground is appreciated by outdoor enthusiasts from inside and outside of the prefecture.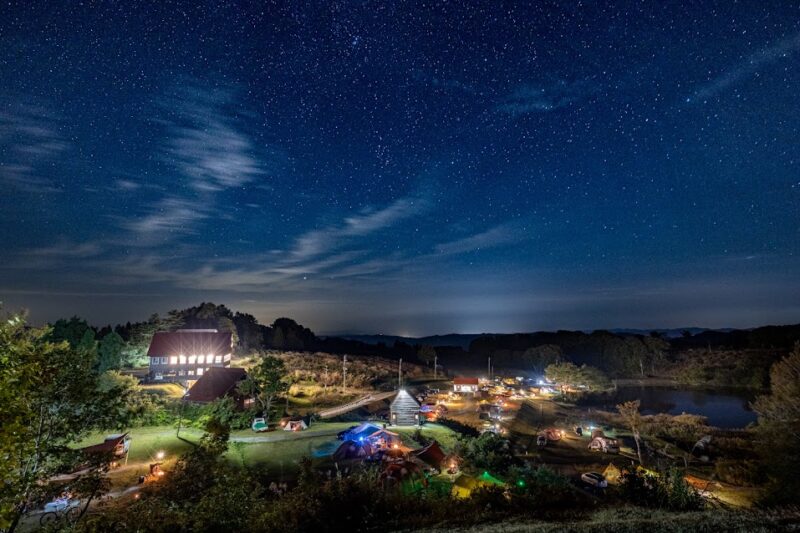 The facility is equipped with lodging facilities such as cottages, bungalows, and indoor camping sites, in addition to tent sites with space for up to 60 or more tents.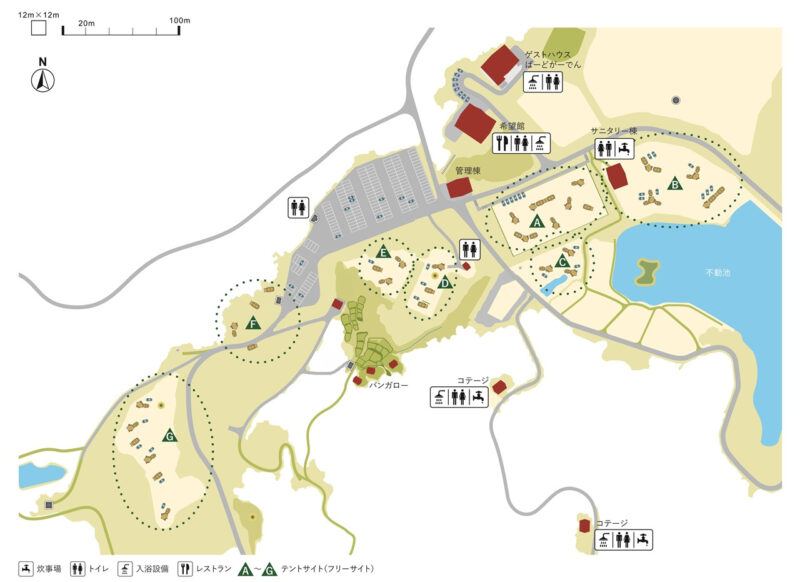 The distance from the parking lot to the tent sites is about 50 to 100 meters. The tent sites are divided into seven areas from A to G, each offering different situations for lodging and day camping.
There are both areas where vehicles can be parked and areas where they cannot be parked. You cannot choose your site, and the first person to check in will have priority.
A short distance from the camp site are two cottages with indoor facilities including cooking utensils, refrigerator, and gas stove. The cottages are accessible by car.
In addition, there are three bungalows (no vehicles allowed), so you can easily enjoy the outdoors and stay overnight according to your style.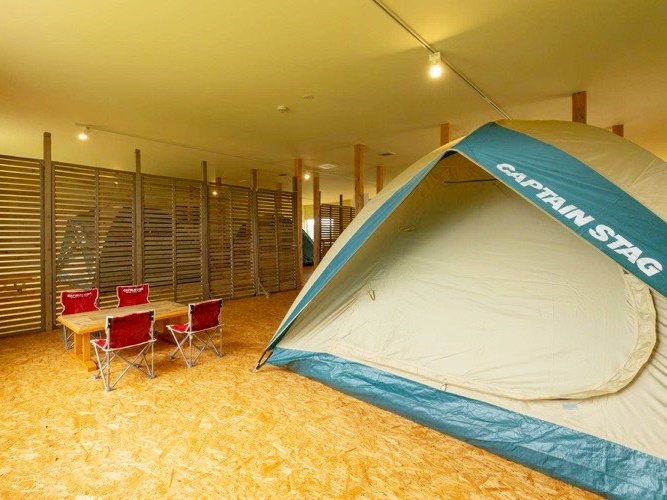 In addition, the "bird garden" camp house, an indoor facility, offers lodging in tents pitched indoors or in private rooms. Beginners and experienced campers alike can choose from a variety of lodging options to suit their preferred style.
Of course, there is also a full lineup of rental items. The extensive lineup includes not only tents and tarps, but also bedding, furniture, lighting, BBQs, campfire equipment, gas appliances, cooking supplies, cutlery, and more. As long as you bring your own food, you can enjoy camping right away.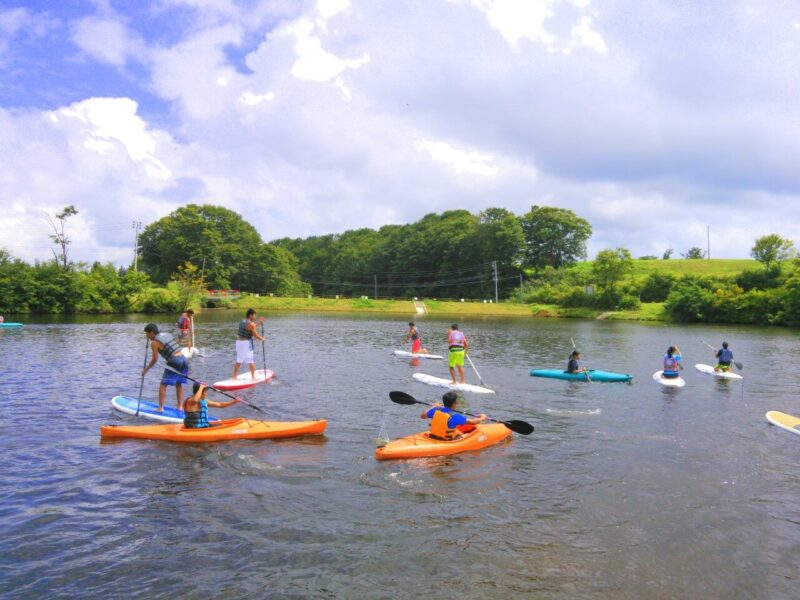 This campground offers a full range of activities to enjoy the nature of the Daigonji Highlands. Canoeing (kayaking), SUP, and fishing can be enjoyed at the pond inside the campground, as well as trekking and cycling. Of course, equipment rentals are available. Advance reservations are required for the experience school. Please check the website for details.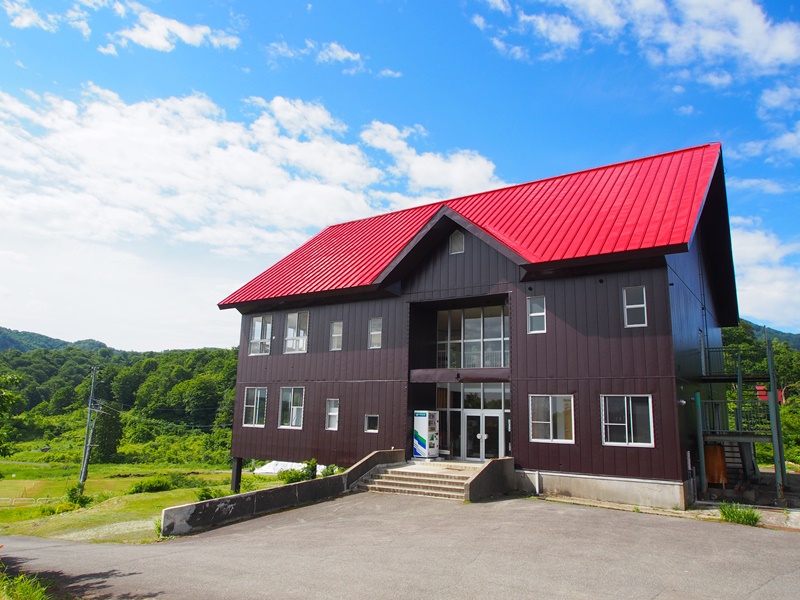 The center house "Hope Pavilion" in the campground is equipped with a store, restaurant, and shower rooms in addition to the reception counter.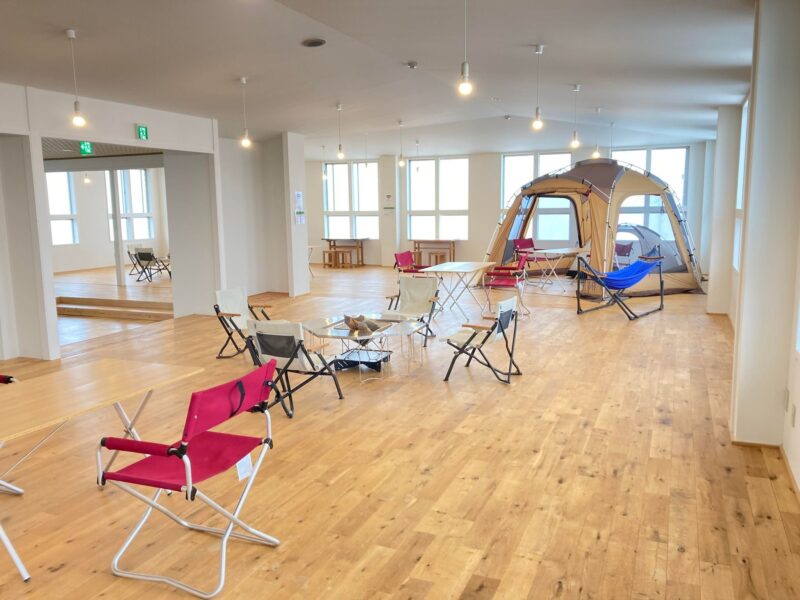 The restaurant serves local favorites such as ramen noodles, and the multipurpose space on the second floor is open to the public as a "camp café. Free Wi-Fi is available, so it will be a great place to work.
Pre-opening will be April 29-May 31, 2023 <residual snow and snow melt season>. Facilities available include 30 free snow sites, camp house "bird garden" (indoor camping), and restaurant "Kiboukan". The bathrooms at Bado Gaden are under renovation, so please use the shower rooms at the Hope House. Full opening is scheduled for June 1, depending on the amount of remaining snow.
In addition to this, please check our website and social networking sites for the status of remaining snow at tent sites.
< DATA>
■Opening Period: Pre-opening <residual snow and snow melting season> April 29 – May 31, 2023 / Full-scale start in June – early November
■Reception: Please make reservations online or by phone.
■Check-in: 13:00-16:00 / Check-out: 11:30
■Fees: Tent site: Accommodation fee (per person/night): from 1,650 yen for high school students and older; Day camp (per person/day): from 550 yen for high school students and older
*Charges vary depending on the season. Cottages, bungalows, and indoor camping sites are extra.
■Parking lot: 50 cars
Echigo-Tsumari Daigonji Kogen Campsite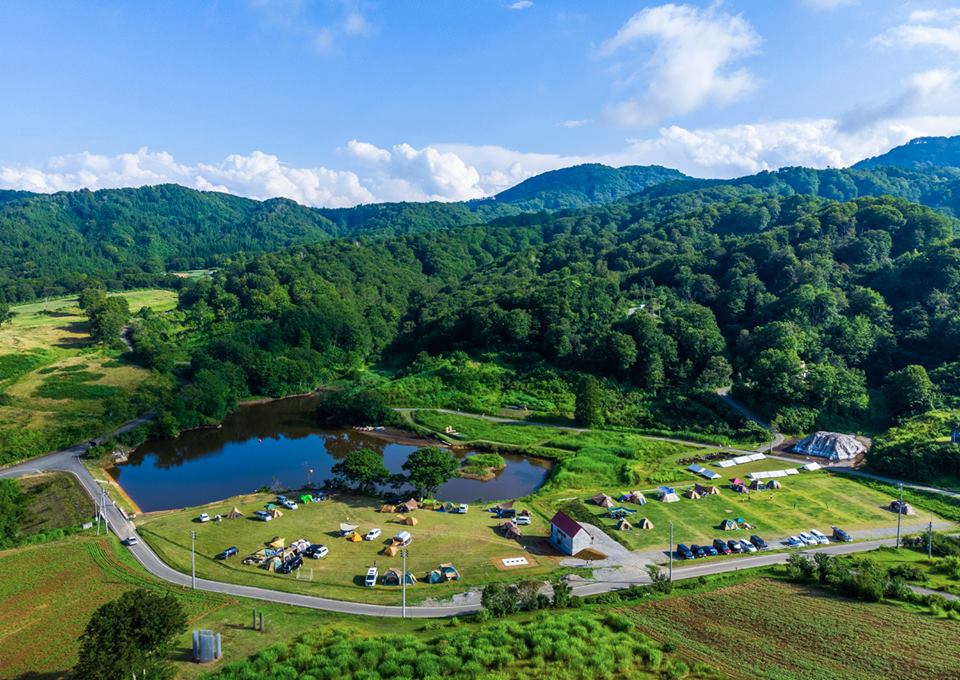 ■Opening period: Pre-opening <residual snow and snow melting season> April 29 - May 31, 2023 / Full-scale start in June - early November
Address: 3140 Amamizukoshi, Matsunoyama, Tokamachi-shi, Niigata
Tel: 025-596-2994
Access: 〈car〉About 1 hour and 10 minutes from Joetsu IC on Hokuriku Expressway
URL: http://daigonji.com/